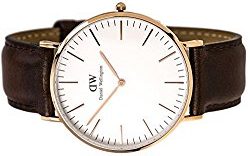 It's time to up your watch game and that's easy with our great guide, just read on!
Watches are a great accessory for men to style your outfit. Now, there are a lot of different styles of watches and a BIG difference in price range. Watches can range anywhere from a couple of dollars to hundreds of thousands of dollars. Now if you actually had hundreds of thousands of dollars to spend on a watch you wouldn't read this guide, you would buy someone who knows watches that'd help you find what you want. Instead, in this guide we will look at some great watches with a price range about a couple of hundreds of dollars up to about a thousand dollars. There are in fact a LOT of GREAT watches in the price range of about a couple of hundreds of dollars. First, let's look at some different styles of watches, you can basically find these styles in all price ranges.
Check out some great affordable quality watch recommendations that will make you look royal at the end of this post.
Styles of watches
Dive watch
Classic watch in metal. With a strap made of either metal or plastic/rubber. Made for underwater use and therefore are water resistant. They are usually water resistant to a depth of at least 330 ft (100m). Today there is a great variety of functionalities in different dive watches and can be either analog or digital. The dive watch are characterized by luminous dials & hands and a unidirectional bezel. The bezel is the ring around the outside of the clock and divers use it to mark how long they can be submerged before needing to return to the surface. The dive watch is a classic metal watch that can be worn in different settings to complement your look. When going to the most formal events aim for a dress watch though, for all other situations a dive watch may be a great choice. Just look at James Bond rocking the dive watch with a suit!
Dress watch
The dress watch is a simplistic type of watch. Usually no extra functions just a plain great looking timepiece to complement your look but can sometimes come with some extra dials. They are slim and usually also pretty thin so that is easily goes under the cuff of your dress shirt. The dress watch is an elegant accessory that will step up your suit look for sure! If you wear a suit a lot in business or other events you should most definitely add a dress watch to you collection.
The dress watch can come in either round or square shape and in different colors such as silver or gold. The wrist strap is made from leather and also comes in different styles like plain leather or patterned and the most common colors are black or brown.
Aviator watch
The aviator watch is an advanced watch, usually with extra dials for precision. Most aviator watches have a black face and comes with luminous dials and hands so they can be easily read in the dark. The black face of the clock can make a great way to style your outfit. The aviator watch comes both in all metal or leather strap so there is a bit more versatility in how you can style yourself with an aviator watch. The aviator watch is great for casual or business casual settings, for more formal settings go for a dress watch. As you can see the aviator watch is pretty similar to the dive watch but there are some distinct differences that makes each add it's own flare to your style
Minimalistic watch
The minimalistic watch is close to the dress watch with a clean clock face. Usually a white face but can come in different colors too, such as a black face. The minimalistic watch comes with a leather strap, which also come in different colors such as brown or black. These types of watches are trending right now and there are a lot of good quality brands for a great price. These are easy to style with your look both if you wear a suit and if you are going for a more casual look.
The minimalistic watch can come in different shapes and sizes such as round or square and both large or small.
Powering
Today there are two main ways to power your watch and that is either with a battery or by non-battery, or quarts. Battery is self-explanatory, there is a battery in the back of the watch that powers it and when the battery runs out it stops and you have to replace the battery. The non-battery quartz watches use the movement of your arm to wind the main spring of the watch which keeps it running. This means a quartz watch is a great choice as it basically powers itself. For watches in the price range of a couple of hundred dollars there is no real issue with either one, so go for whatever type you like best.
Straps
As you can see above in the different styles of watches there are two main types of watch straps, metal or leather. Some things to keep in mind when shopping for watches:
Leather straps
Something you have to watch out for when buying a cheaper watch is the quality of leather straps. A lot of watches in the cheaper end will use fake leather or low quality leathers. The fake leathers can really look fake which looks BAD. For example the fake leather straps in some cheap watches will not bend around the wrist in a natural way and makes the way it sits on the wrist look really bad. Fake and low quality leathers also show wear a lot faster than higher quality leather.
Metal straps
The quality of the metal straps are usually fine. The thing to look out for in these are if they are colored. For example if you are looking for a colored watch in gold or even silver the metal-color can be painted over because obviously you aren't looking at real gold watches for a couple of hundreds of dollars. As you wear the watch the color can wear of and that does NOT look good.
Now these are some of the things that makes you want to skip the lowest price range of watches because the quality can really just be BAD. Stick to watches starting from about $100 up to a couple of hundreds if you want to find good quality for a reasonable price.
8 great examples of affordable quality watches that will make you feel royal:
Dress/Minimalistic watch recommendations:
Daniel Wellington has made a great name for themselves and are one of the fastest growing watch brands. They keep the true to the minimalistic style that goes well with both a suit or a sweater. This particular one comes in gold with a leather strap. Daniel Wellington also has a great variety of watches with nylon wrist strap. The leather strap is a bit more formal and goes better with a suit than the texture fabric nylon strap – but either looks really good.
Tissot has been around since the 1850's and make some great high value quality watches. This particular watch comes with a black face, silver casing and a black leather strap. This would look great with any dark suit. But can also work with brighter colored clothes as it can give a nice contrast. We like the black/dark watches as a great alternative to the common white faced watches.
Stuhrling an American brand named after a famous watchmaker who lived in the 1800's. They make some stylish watches such as this one we have selected with a black colored face, gold casing and a brown leather strap. This watch has a bit more features than the other dress/minimalistic watches as it comes with date an
d two extra dial that can be maneuvered with the extra buttons on the side of the watch. A great watch that works with any style, the color combinations gives your outfit a bit more pop!
GUESS is an American clothing brand that has been around since the 80's. The watch we picked out from GUESS is square shaped, black faced and silver casing with a black leather wrist strap. This one is a great stylish watch that will fit with most outfits. It will elevate your style both with a suit or with more casual clothes. The square shaped watch is a great compliment to your watch collection and adds some more variety to your choices.
Dive WATCH RECOMMENDATIONS:
Seiko is a well known brand that's been around since the 1880's and are well tested. Great value watches. This one that we picked out has the classic look of a dive watch with a couple of extra dial for timing-functions. It comes in all metal with a classic dive watch bezel. This watch are for more informal outfits but can work well with a suit in less formal settings. This is a nice classic dive watch that would be a good compliment to your watch collections if you want to add a dive watch!
Invicta is an American watch maker that's been around since the 1830's. This particular watch that we picked out is a really nice dive watch that comes with an arm strap in plastic with some really nice metal details. It has the signature bezel of the dive watch and some extra dials for precision timings. The color of black/metal gives it a really nice look that can add a nice flare to any outfit! A great value watch with a lot of style.
Another great watch from Invicta, this one in gold color! The design is a bit different from the Invicta we picked out above since this one comes in an all metallic design and gold color. It has the same number of extra dials, but the placement and the design of the face is a bit different. This one is a great choice if you want to add a bit more flare with the color of gold. Goes great with gold rings, etc., to add to your style!
Aviator WATCH RECOMMENDATIONS:
AVI-8 is a relatively new brand from the 2000's with a bunch of great looking watches. The one we picked out is a really nice looking aviator watch with the classic black face and a black leather strap. It comes with the extra precision dials that you would expect from the aviator watch. This watch can compliment most styles and looks a bit more formal with the leather strap.