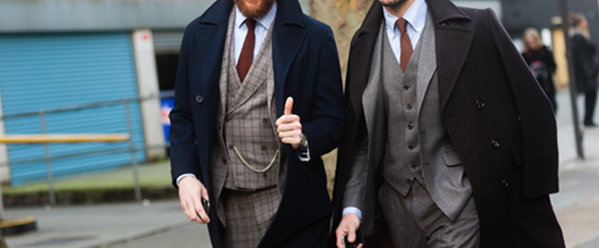 Brace yourself, winter is coming. Do you have your overcoat ready?
Sure you want to look good even in the colder times of the year. Who doesn't? Wearing casual or sporting jackets take away from the style of your look and can make you look like you are going on a hike. With a nice suit or dress shirt that is not what you want. To keep you look stylish you should get yourself a great classic overcoat!
Overview of different kinds of overcoats
The shorter coats generally go around mid thigh in length. Therefore it gives not protection for your legs and trousers. This is what a lot of men who isn't looking out for their look and style tend to go for as they are looking for a new overcoat – big mistake. A lot of men feel a bit insecure of going for the longer coats which is a mistake as the longer coats both looks better as they move with your body as opposed to the shorter coats.
This type of coats ends right above the knee. It gives more protection for the legs and trousers and generally gives you a better flow as you move compared to the shorter coats. Try to go for a top coat or a full overcoat for the best look.
These overcoats are the longest and finishes a couple of inched below the knee. Both the top coat and full overcoats gives a great stylish look.
Fit, fabric and quality
What some people are afraid of when getting the longer overcoats are that they will look like a big hanging piece of cloth. This is avoided by getting a properly fitted overcoat. There are a lot of coats out there. The easiest way to purchase your new overcoat is in a department store or online, more on that below. Unless you get a new fully tailored overcoat the general rule is to get it altered to fit you. When getting it altered you should always wear the kind of clothes you intend to wear under the coat for the perfect fit. By getting it fitted to you and your body it will end upp looking great!
The length of the arms should be long enough to cover both your suit jacket and the cuff of your shirt. Preferably the arm reaches a little bit below your shirt cuff as this will keep you warmer.
Always go for the better quality fabric like heavy wool and try to avoid cheaper synthetic materials. A good quality overcoat can give you a great look for years to come so invest in quality. A wool an cashmere blend can also be a good way to go about it as cashmere gives the coat a softer feel.
To test the overall quality of the overcoat you can do the pinch-test just as with suit jackets to see if the coat has a sewn canvas of a fused canvas. The sewn canvas is a sign of higher quality. This is not as critical with overcoats as with suits as it sits farther away from the body. But I prefer the sewn canvas as it gives the coat a better look as it drapes over the body more naturally. Sewn canvas or "fully canvassed" means that the middle layer of the coat is sewn as opposed to fused where it's more or less glues on and gives the coat or jacket a stiffer look. By pinching the chest fabric of the coat you can figure out if it's sewn of fused, if it is sewn you should be able to feel the middle layer.
Styles and color
There are mainly two different styles when it comes to overcoats. These are the single breasted and double breasted styles. Generally single breasted is referred to as less formal and double breasted is seen as a bit more formal. Don't be afraid to go for the double breasted over coat – it's a great style! Double breasted coats often keeps you a bit warmer too so if you live where there are cold winters you may want to go for the double breasted style. Both look great – it's a matter of personal preference!
If you are looking to get your first proper overcoat aim for the a standard classic design. If you do, you will have an overcoat that will work with most outfits and will make you look great!
Same goes for colour, if your getting your first or first couple of overcoats go for the basic colours,  navy or charcoal/other greys.  This will work with most outfits and will let you be more creative with the rest of your outfit underneath your coat. You want your overcoat to go with anything.
Where to get your overcoat?
You can often find some good quality overcoats at thrift stores and make some good deals. As the good quality ones last for a long time. Just be sure to look for stains and holes that might not be wash of or repair. Remember to get it altered for perfect fit.
This is and online is probably the most common way to buy an overcoat. There is nothing special to getting your overcoat from a department store. As these are standard sizes you will probably have to get it altered for perfect fit. There are a lot of great overcoats in department stores and you can probably get some good deals.
This is a very easy way of purchasing an overcoat and there are usually the same types of coats online as in departments stores. You will find all the big brands and you will have more choices than in the department stores. When buying online you can't get the same feel of the overcoat but usually you will be able to find great reviews of the product to be able to build a good sense of it. Online stores usually have great return policies as well.
Of course this is the most expensive alternative but also the best one if you have the money. This will give you the custom and perfect fit of the overcoat and you can usually get the exact design and fabric that you want.
Happy coat hunting!